Catalog 11 - The Muscle Boys Get Brutal!
December 06, 2018
Who likes it ROUGH? Strike that - who likes it BRUTAL?! Our boys sure do and wait until you see the lineup of extreme battles we have in store for you in Catalog 11! Bodybuilder pretty boys Caleb "Scrappy" McNair and Blake Hunter make their debuts as well as powerlifter Dax Carter. All 3 of these thick beasts will quench the fans thirst for the big boys. And those that are thirsty for our sexy young twinks will love watching the return of Joey McCoy, Quin Quire, Ian levine, and Aaron Perez!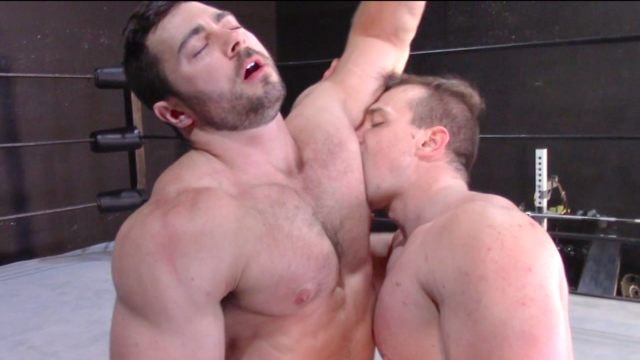 HD
50 min
This is Derek Bolt's very first ring match and he's up against the equally thick and muscled Blake Hunter who is making his MBW debut! Two big boys going at it in the ring is enough to wet anyone's appetite and at nearly ONE HOUR long our fans will devour this match. Like Derek, Blake is a thick, jacked bodybuilder with an ass and legs that don't quit. Derek has the body of a 1950's muscle mag pinup - he's your dream pro wrestler come true!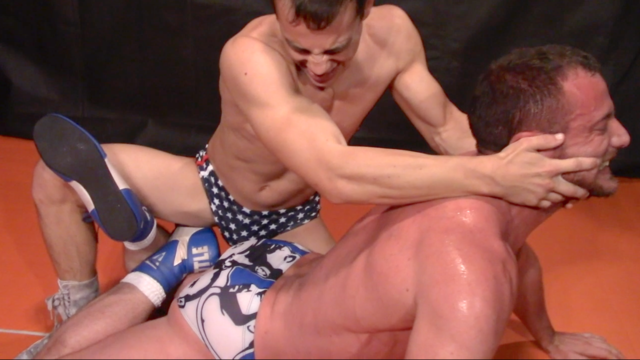 HD
31 min
Just as the catalog title suggests Alex Costa VICIOUSLY brutalizes our resident twinky boy jobber Joey McCoy. Fasten your seat belts fans because this match has to be seen to be believed! Alex uses his superior power to brutally destroy Joey over and over! The nasty suplexes, power slams and strikes all over Joey's ripped body are just the beginning.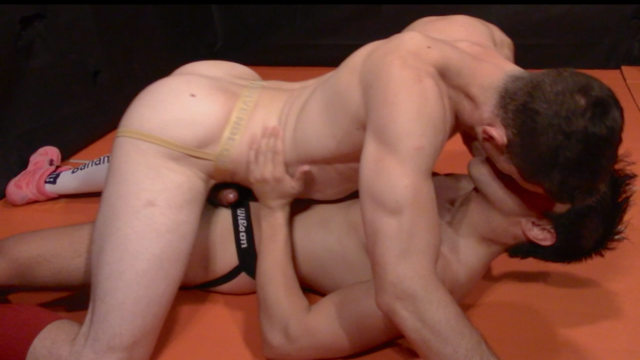 HD
39 min
As we have seen from their previous videos both Quin and Jesse are masters of slow, erotic wrestling. Here they square off in the mat room in singlets (at first) and both are very turned on by the other. All the kissing, stroking, and rubbing of hard cocks against each other's smooth bodies would be enough to send anyone's temperature higher but there is a wrestling match to be settled. These two sexy boys battle it out with a million head scissors and splades that twist up each other up in beautiful and sexy positions.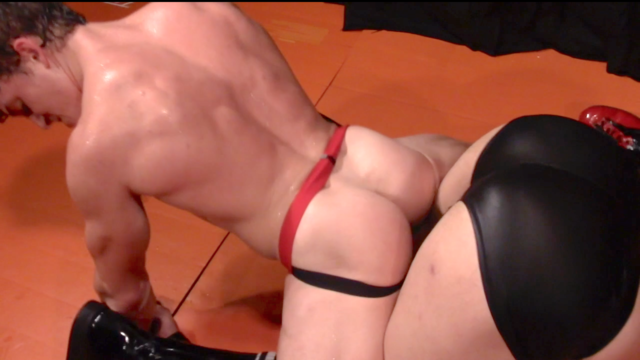 HD
35 min
What better way to welcome the jacked muscle hunk Scrappy to MBW then to put him in a jockstrap and pit him against underground legend Brendan Byers?! Scrappy's debut is a sweat drenched, all out, ball busting, ass slapping, gut stomping WAR! Brendan (aka Masked Bruiser) has torn off the mask and donned his leather daddy gear - and he's in the mood to DOMINATE. He TEARS into the world's hottest muscle boy with stomps, punches, chokes, racks, slams, camels, and more ball torture then we've ever seen!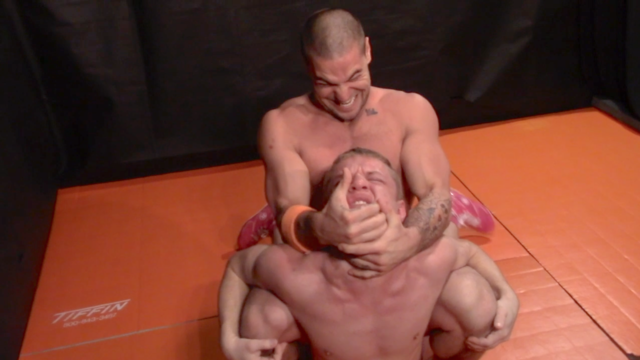 HD
38 min
We said BRUTAL, right? Hold on to your hats because the way Aspen DESTROYS innocent jobber Ian Levine is nothing short of heart-stopping. This boy is absolutely thrashed and humiliated by Aspen in one of the most vicious beatdowns we have EVER filmed! Aspen is MBW's baddest bad boy and he always plays rough but this is the roughest squash he's ever inflicted on a helpless jobber. After overwhelming him with suplexes, slams, camels, and racks Aspen wedgies the boy and starts a spine-tingling assault on Ian's smooth peach of an ass than can only be described as ASTONISHING.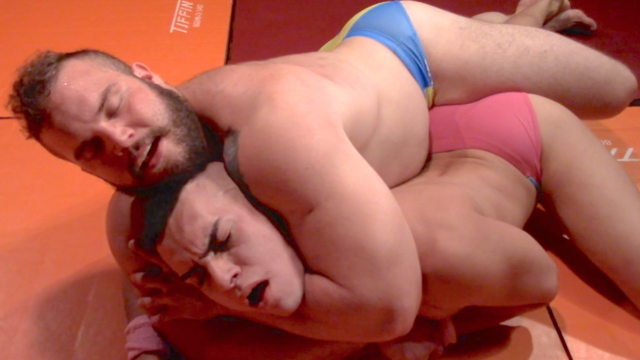 HD
38 min
Aaron Perez proved himself to be one tough fucker after he endured the thrashing that Aspen gave him in Catalog 10. But this is an entirely different can of worms because we've matched him up against our NEW beast Dax Carter! Dax has a MASSIVE muscled build. He looks like a video game villian and wrestles like a bull that just escaped his cage. He takes apart Aaron with a ferocity that makes you wonder if he's gonna rip off one of the boy's limbs and eat it for breakfast. Wedgies, punches, kissing, humping, slams, and verbal domination highlight the big man's versatility and clearly Aaron's bubble ass will be his for the taking.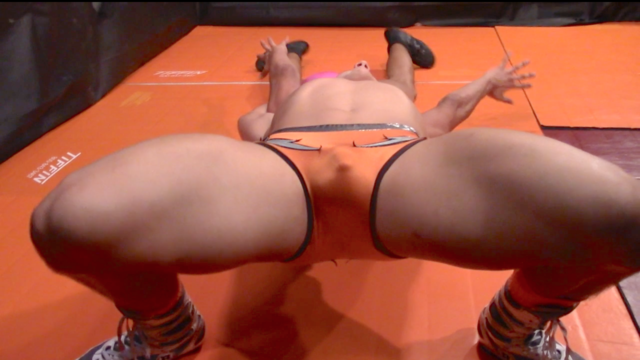 HD
26 min
Austin Tyler is one of MBW's most skilled pro wrestlers and this back and forth pro style bout shows exactly why Santiago is often underestimated. The kid has got SKILLS! He goes toe to toe with Austin and endures Austin's power moves and superior sub holds with ease. The pro moves are flying fast and furious so don't blink or you will miss Austin give Santi the best clothesline you will ever see in the MBW matroom! Santi goes flying head over boots in mid air and that's just the start of Austin's incensed beatdown.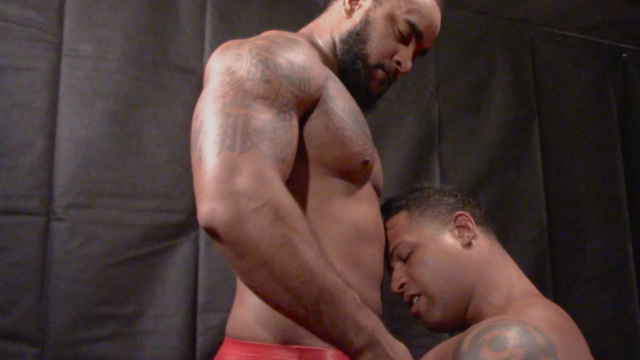 HD
33 min
Sometimes a wrestling match is promised and an all out BRAWL breaks out! MBW exclusive wrestler Nick Flex is in a NASTY mood in this match with newbie Gabe Steel. Fans will love watching him tear apart this jobber with more punches to the head and body then a championship boxing match. However, this being Nick Flex he also takes apart his boy with a barrage of stomps, kicks, balls strikes (tons of them!), sub holds, and a NASTY choke slam! From the beggining Gabe doesn't stand a chance. But then, like a miracle from the wrestling gods, Gabe makes a comeback!