Scrappy McNair
Scrappy McNair Videos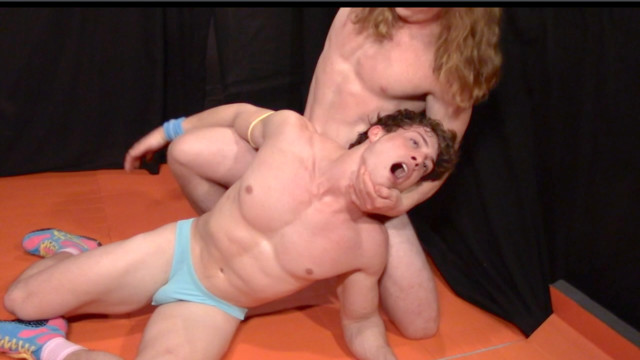 HD
30 min
Did Scrappy piss off the wrestling gods? Last catalog Scrappy tore apart twink Marcus Ryan and the fans lapped it up. Perhaps he tempted fate because pro wrestler Kurt Fletcher decides to rip into Scrappy like no one has before! With his bubble ass and long locks you'd think Kurt would be all style and no substance but oh HELL no! He lays into Scrappy with slams, stomps, punches, suplexes, bearhugs, and every other pro wrestling move. Scrappy is great at playing the heel but watching him whine, cry, and suffer is equally pleasuring.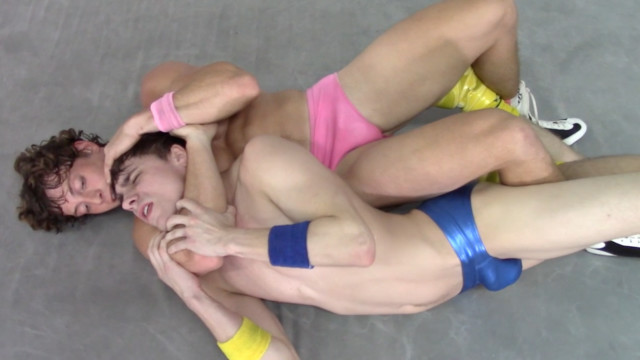 HD
26 min
Multiple standing suplexes, bodyslams, tree of woe, camels, crabs, and every other pro wrestling move you can think of! Watching Scrappy play the heel makes you realize that you are watching a true artist who excels at his craft. As far as Marcus goes, well he's game for some punishment, this boy gets hard no matter who is working him over and there is definitely some perk in his shiny blue trunks this time around. And since this is MBW, Scrappy also does not miss a chance to work over the boy's balls with earth shattering accuracy!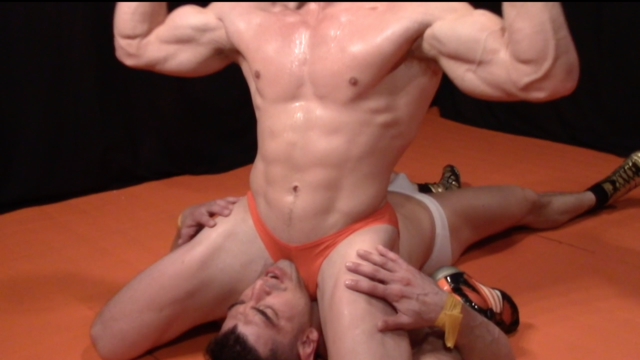 HD
36 min
Behold the absolutely sweat drenched fight between Scrappy and Jeremy. It features both hunks in skimpy see-through gear and tons of face humping action. And since this is Cat 24 we are required to mention that packed in between all the sweaty wrestling there is a ball smashing demonstration that requires multiple viewings. We must admit we never realized how much Scrappy LOVES to grab a dude's junk! The gear, the sweat, the balls, and the humping make this one a MUST see.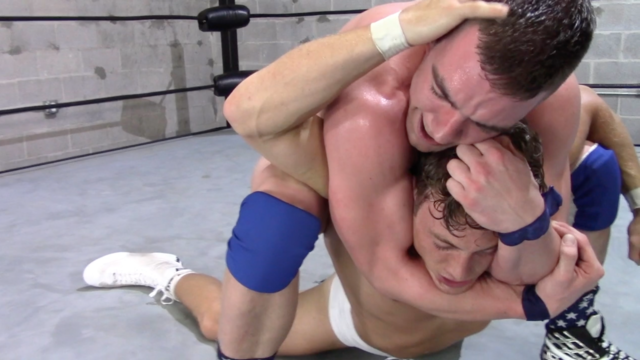 HD
29 min
Both of these smooth boys have model looks and skilled pro wrestlers. Letting them loose in the ring was a fucking awesome idea because WOW what an old school pro style fight this turns out to be! It's stiff, fast, and both boys suffer better than anyone in underground wrestling! Both men are grafting for a win and as they sweat and trash talk and pound on each other's bodies you will NOT want this one to end!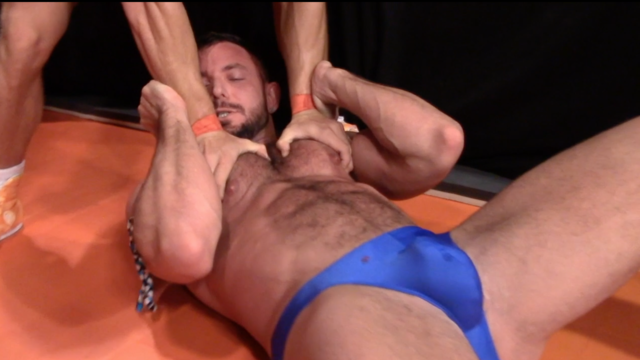 31 minutes
Alex Costa is the roughest and possibly most talented wrestler in MBW. He's wanted to take apart Scrappy since year one and now he finally gets his chance to pound on our pugnacious pretty boy. What he didn't expect is that Scrappy would give him the fight of HIS LIFE! Scrappy more than holds his own here as the sweaty back and forth is aggressive, disorderly and mind blowing.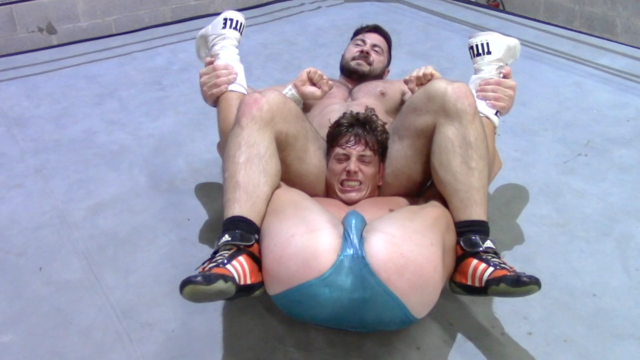 HD
27 min
Destiny? Fate? Written in the stars?! We knew this day would cum. Fans have been begging us for it and at MBW we like to make dreams a reality. Two wrestling muscle gods, one ring, and one winner! The two wrestling Titans of the world finally face off in the MBW ring and our fans will have a front row seat! Will Derek's sheer brute power and towering muscle win in the end? Will Scrappy's glistening muscles, ring skills, and heart win the day? Strap on your boots and trunks and enjoy the show fans!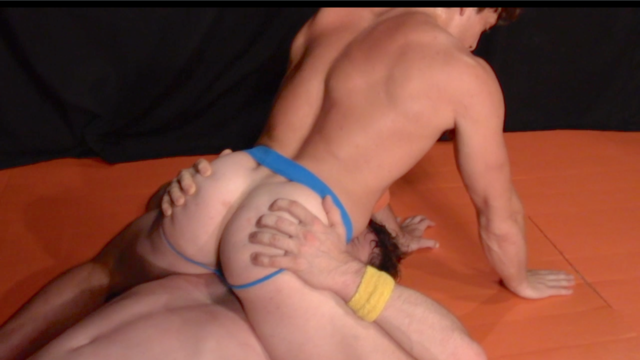 HD
32 min
Welcome to MBW Kenny Star! Now put on your jockstrap and take your beating from the ultimate Muscle Boy Scrappy McNair. These two hunks get so sweaty in their jockstraps that you will be dying to jump into the mat room and towel them off. Scrappy likes to initiate new boys by pummeling the crap out of them and this match is no exception. Kenny is a star in underground wrestling but this is MBW boys and Scrappy is out to teach this cutie a hard lesson.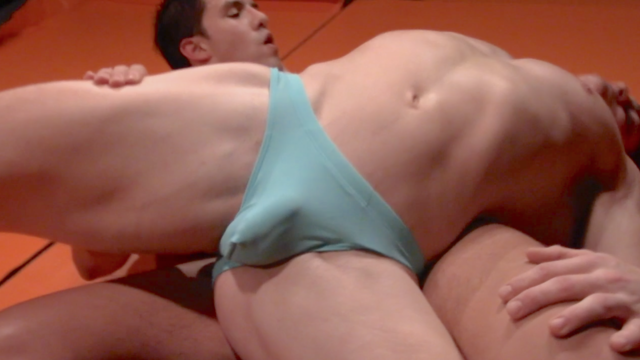 HD
38 min
Eventually we knew this matchup just HAD to happen! Jesse and Scrappy are two of MBW's most beloved stars and this long, sweaty, and heart thumping mat skirmish is everything you have ever DREAMED of. The chemistry is ablaze the moment they start feeling each other up and smacking each other's pecs. Witness them trash talking face to face and nose to nose. Scrappy sure seems to be "into" Jesse and once the fight gets lit it is anyone's guess which guy will come out on top. A back and forth classic, this one has the same level of roughness and edgy violence one comes to expect from these two drop dead hot wrestlers.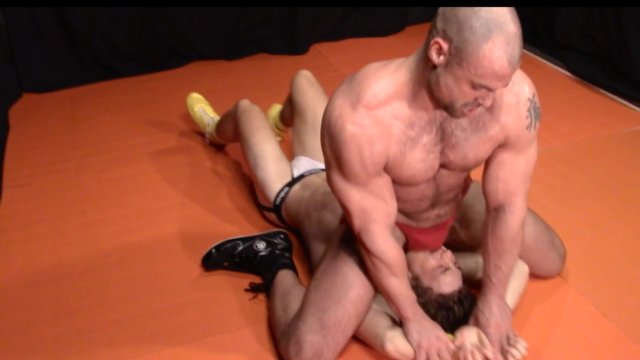 HD
35 min
This fierce battle pitts our fave muscle boy with the golden locks and gleaming white ass against a behemoth almost twice his size! Jaxx is a natural and he slices and dices Scrappy with precision, hammering him with body punches and slams. As their backs and butts glisten with sweat the 2nd half is all jockstraps and muscle and ferocious action! Eventually Jaxx's size is too much to handle, even for Scrappy. The bigger man takes control and does things to Scrappy you will ONLY see at MBW!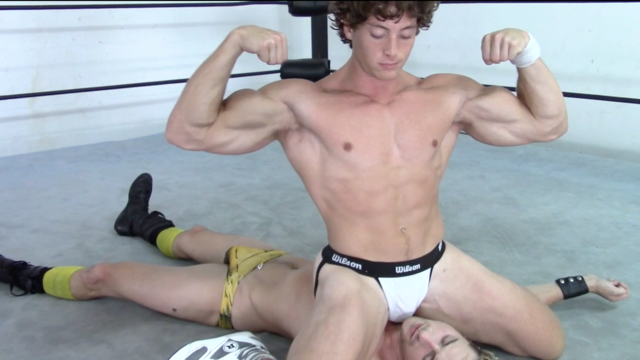 HD
35 min
Scrappy asked the MBW boss Rocco what he wanted him to do with Taylor Reign in the ring. Rocco responded "use the whole ring and pummel him - ROUGH". A back and forth battle is always hot but it is a HUGE victory for the fans when you see this amount of muscle, skill, and star quality in the ring!