Scrappy McNair
Scrappy McNair Videos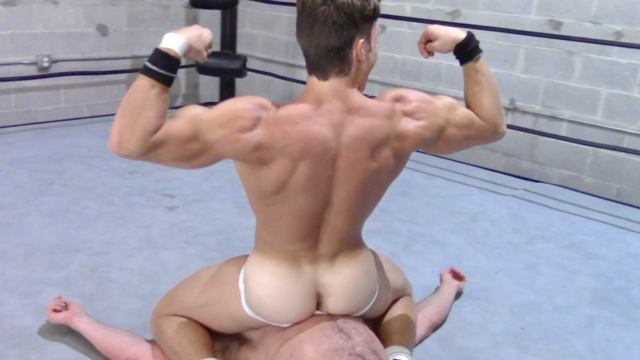 HD
42 min
We know you will be happy to see two of our best in the ring against each other but here's the burning question: which icon, which legend, which SUPERSTAR will emerge the victor? Expectations are high when you put the likes of Alex and Scrappy in a ring and tell them to "go at it boys". This match is a cornucopia of pro wrestling moves and holds that will make your insides explode. This is a rare example of when expectations are not only exceeded but they are blown through the roof. This may just be the best ring match ever at MBW.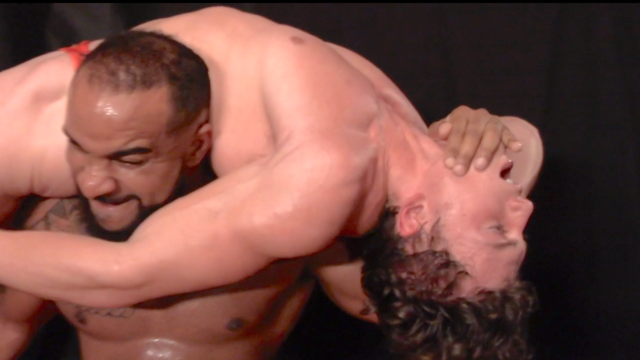 HD
31 min
Scrappy McNair barefoot and in tiny red trunks sure is what a legend LOOKS like. Nick Flex is a legend in his own mind and this collision course between two MBW originals has been a long time cuming. There is no wrestler better at selling a squash than the smooth and golden-haired Scrappy. Nick just THRASHES Scrappy at every turn. As his sculpted body gets tossed around the room and used like a rag doll we can't help thinking about how HOT Scrappy is at everything and how HOT Nick is at beating someone to a fine pulp. Enjoy it fans, you've earned it.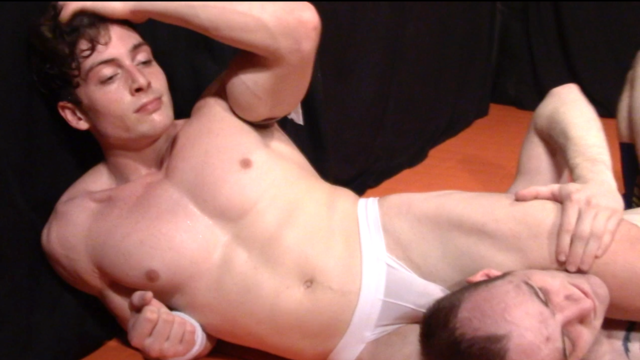 HD
37 min
Scrappy keeps INVITING Corey to touch him all over! Scrappy's very sweaty see through white trunks transitions to his even MORE see through and sweaty jock strap. Boy does it help to eroticize the action - nothing is left to the imagination here fans! The weight difference leans heavily in Scrappy's corner and he stomps, sleepers, punches, hammers, racks, slams, and brutalizes Corey to the limit of human endurance. As is his way, Scrappy's ass is out for the world to see through a large portion of this match too…and that perfectly round muscle ass can only be witnessed here at MuscleBoy Wrestling!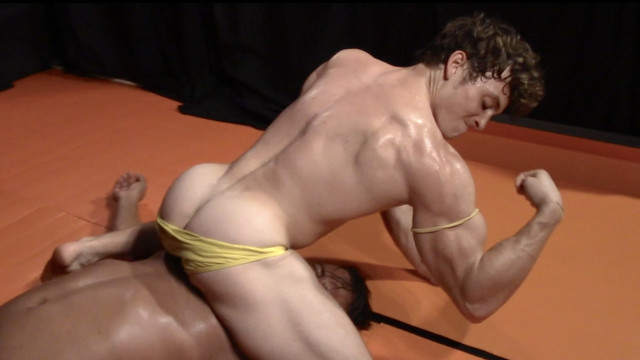 HD
51 min
Who is ready for an hour long sweaty mat room throw down?! Scrappy and Gabe sure as fuck are and the skill and power on display is one for the ages. We specialize in these sexy and VERY long mat room battles here at MBW. We want to see sweat, rippling muscles, wrestling skill, and all out BEATINGS that will keep our fans coming back for more.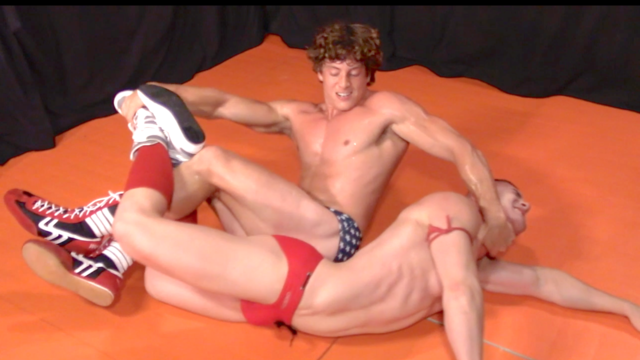 HD
36 min
You want erotic brutality? Scrappy is a master at making wrestling as sexy as hell and we think Austin will surprise the FUCK out of you! Scrappy combines his usual sexy attitude and vicious moves but it is Austin that can really throw a punch! He also snaps on a nasty camel while mumbling something in Russian that we assume must mean "do you give boy?" More than ever, this video shows just how far he can push the envelop without having all out sex in the matroom.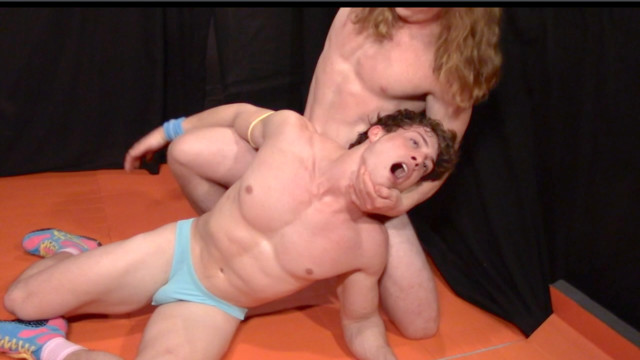 HD
30 min
Did Scrappy piss off the wrestling gods? Last catalog Scrappy tore apart twink Marcus Ryan and the fans lapped it up. Perhaps he tempted fate because pro wrestler Kurt Fletcher decides to rip into Scrappy like no one has before! With his bubble ass and long locks you'd think Kurt would be all style and no substance but oh HELL no! He lays into Scrappy with slams, stomps, punches, suplexes, bearhugs, and every other pro wrestling move. Scrappy is great at playing the heel but watching him whine, cry, and suffer is equally pleasuring.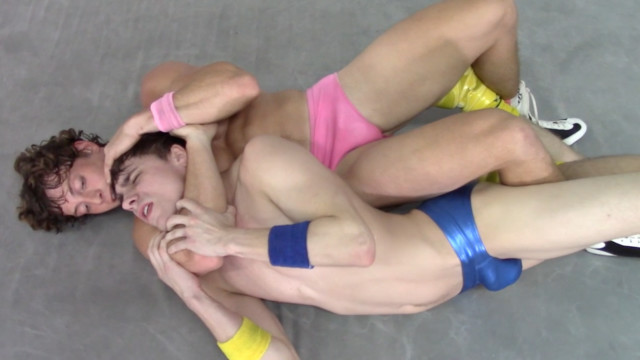 HD
26 min
Multiple standing suplexes, bodyslams, tree of woe, camels, crabs, and every other pro wrestling move you can think of! Watching Scrappy play the heel makes you realize that you are watching a true artist who excels at his craft. As far as Marcus goes, well he's game for some punishment, this boy gets hard no matter who is working him over and there is definitely some perk in his shiny blue trunks this time around. And since this is MBW, Scrappy also does not miss a chance to work over the boy's balls with earth shattering accuracy!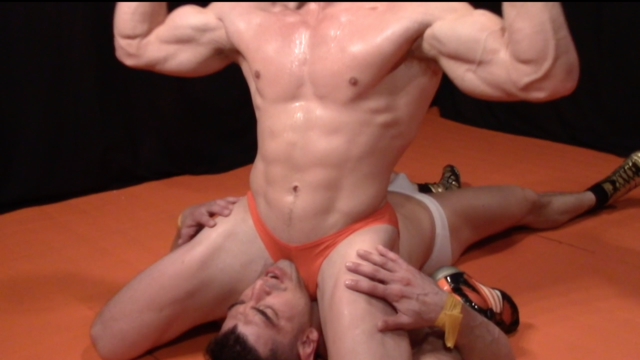 HD
36 min
Behold the absolutely sweat drenched fight between Scrappy and Jeremy. It features both hunks in skimpy see-through gear and tons of face humping action. And since this is Cat 24 we are required to mention that packed in between all the sweaty wrestling there is a ball smashing demonstration that requires multiple viewings. We must admit we never realized how much Scrappy LOVES to grab a dude's junk! The gear, the sweat, the balls, and the humping make this one a MUST see.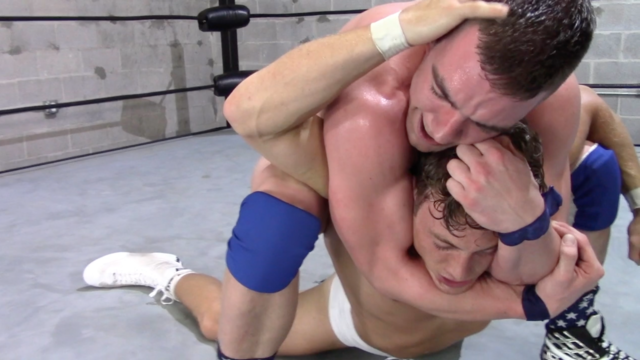 HD
29 min
Both of these smooth boys have model looks and skilled pro wrestlers. Letting them loose in the ring was a fucking awesome idea because WOW what an old school pro style fight this turns out to be! It's stiff, fast, and both boys suffer better than anyone in underground wrestling! Both men are grafting for a win and as they sweat and trash talk and pound on each other's bodies you will NOT want this one to end!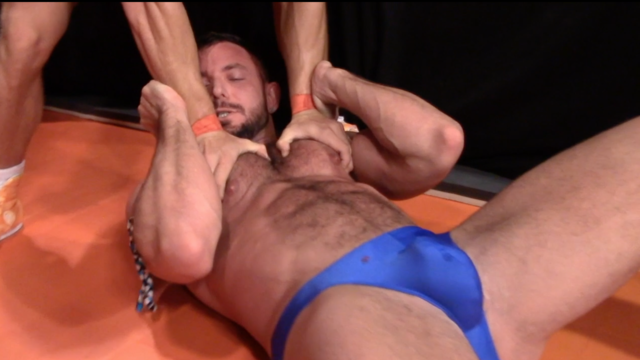 31 minutes
Alex Costa is the roughest and possibly most talented wrestler in MBW. He's wanted to take apart Scrappy since year one and now he finally gets his chance to pound on our pugnacious pretty boy. What he didn't expect is that Scrappy would give him the fight of HIS LIFE! Scrappy more than holds his own here as the sweaty back and forth is aggressive, disorderly and mind blowing.