Austin Tyler
Austin Tyler Videos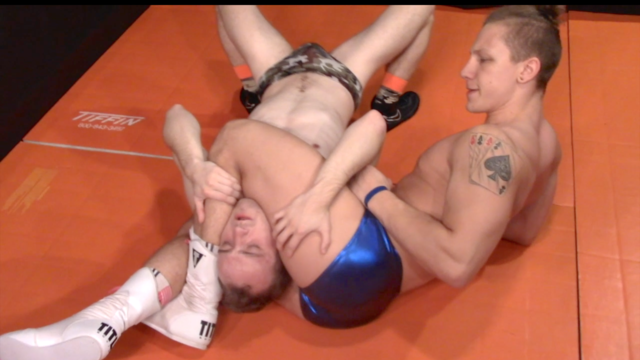 HD
22 min
Austin is a pro wrestling star on TV and watching this video you can really see why. The mismatch of Austin vs Corey is something Austin thrives on and once he establishes control he never lets up. He pummels poor Corey with every move known to man and they are BRUTAL as hell. This is a clinic and Austin is the master, so bow down and get off because this kind of talent is rare.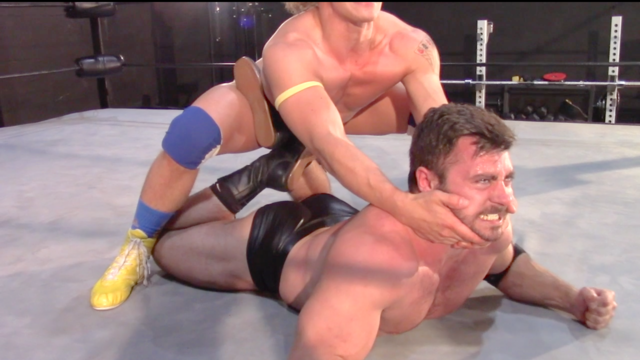 HD
25 min
Every time we see Derek Bolt do a double bicep flex while straddling Austin Tyler we are convinced that somewhere a gay man just fainted. This guy is so built and so hot his sweat could be sold for the price of gold. Going up against an experienced pro wrestler like Austin, Bolt is out to prove he can wrestle pro like the best of them. When he takes over the bout in the center of the ring, the chokes and sub holds he puts on Bolt are much sexier and rougher than we've seen previously from Austin. He's gonna go rough and he going to dish it out on Bolt! This is true old school pro wrestling with a stiff edge that we know our fans love.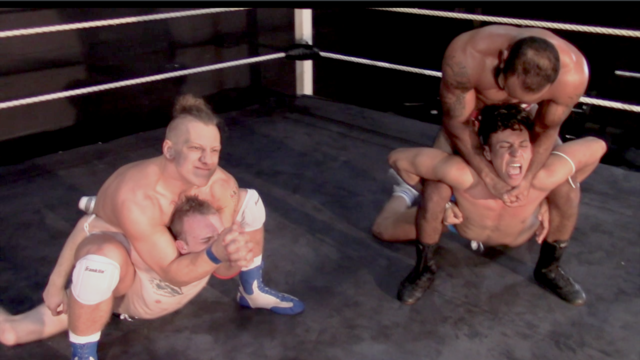 HD
31 min
Tag team action! Nick Flex and Austin Tyler do NOT get along. But when facing a couple of pretty twinks they put aside their squabbles and realize these two twinky jobbers are too tasty to pass up! Corey and Santi arrive in cool joe sunglasses and think "we got this". What they get is an old fashioned one sided tag team SQUASH complete with double clotheslines, double suplexes, and enough body slams to start an earthquake. This tag team annihilation is one you will watch over and over!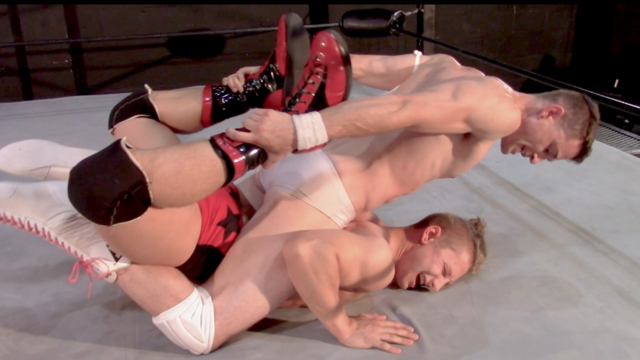 HD
27 min
There is simply noting hotter than two gorgeous, talented, muscular, and ripped wrestlers going at it back and forth inside the squared circle. For fans of true pro wrestling skills this match will have you wishing you were living back in the old days of 1970's and 80's TV wrestling on Saturday mornings. Both of these hot men look incredible in their pro gear and they are so talented that you will see holds and moves you've never seen before.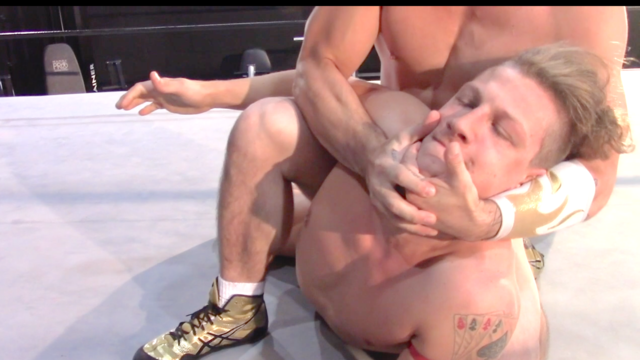 HD
29 min
When two wrestlers sincerely don't like each other what are we to do? Encourage confrontation! Austin hated Aspen from minute one. Something about his cocky smile and beefy body prancing around the ring like a peacock didn't sit right with this skilled pro wrestler. These two take their hatred to another level in this ring brawl that more than lives up to the catalog title. Austin is out to teach Aspen a pro wrestling lesson and for a while it looks like his skills are too much for the preening porn star.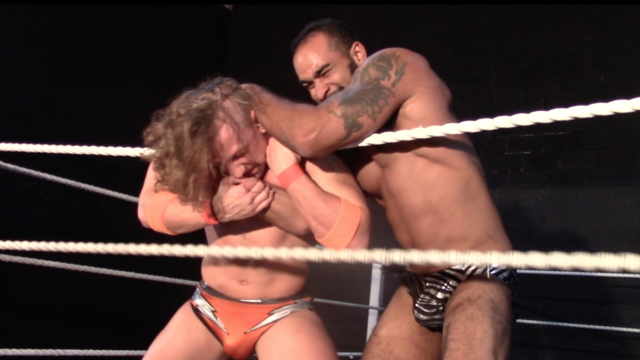 HD
28 min
Both of these MBW superstars are truly gifted ring technicians so you would assume this ring match would be a lesson in ring skills - RIGHT? Not so much. These two Muscle Boys do NOT like each other and that isn't a work, it's REAL. The moment they enter the ring they tear into each other like a couple of caged animals. The action inside the ring is a tornado of slugging, slamming, and brutal assault moves! Fans you are gonna LOVE this one!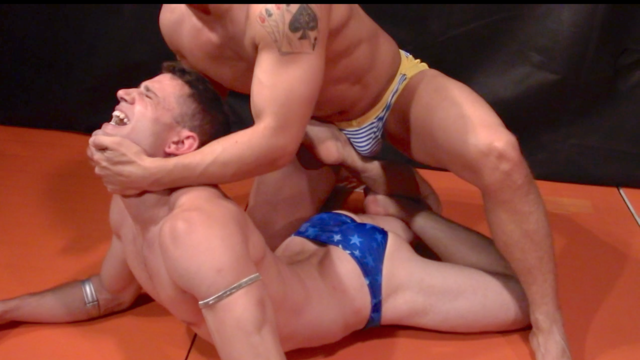 HD
29 min
Quin is lean and ripped and tough. And when you put him up against a hunky muscled god like Austin the results are astounding. This is an excellent back and forth brawl that our fans will eat up with a spoon! Austin uses all his mat skills and moves but there is no hotter sight in the wrestling world then seeing his trunk legs wrapped around Quin's head. Quin is flexible as fuck and Austin manages to wreck his neck and back with several variations of a surfboard. By the end that sore neck is being drilled into the mat while careening from Austin's shoulders.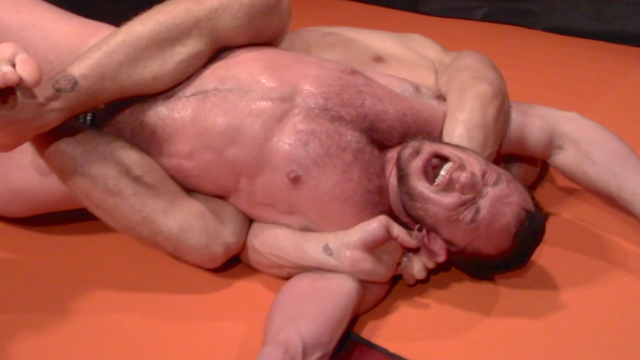 HD
36 min
What happens when you take two sexy mat technicians in skimpy trunks and bare feet and let them go at it with no time limit? FIREWORKS! Austin is chiseled, muscled, thick, and smooth. Alex is chiseled, muscled, thick, and hairy. Both of these dudes love to fucking wrestle and wow this match does NOT disappoint. We suggest the fans keep a rag and some water handy to wipe away the sweat and quench your thirst.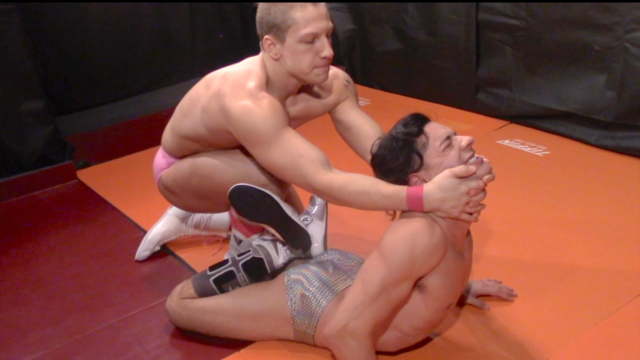 HD
33 min
The Porn Star vs The Pro Wrestler! We have been looking forward to seeing this one for a long while. Ethan Slade is so damn ripped and sexy and he suffers a beating like he never has before! Hair flip suffering is Ethan's speciality and with abs you could cut glass with he makes it look ooooh so hot. Austin likes taking apart pretty boys in the mat room and his expert skill is here for your pleasure. He carves up juicy Slade limb by limb, move by move.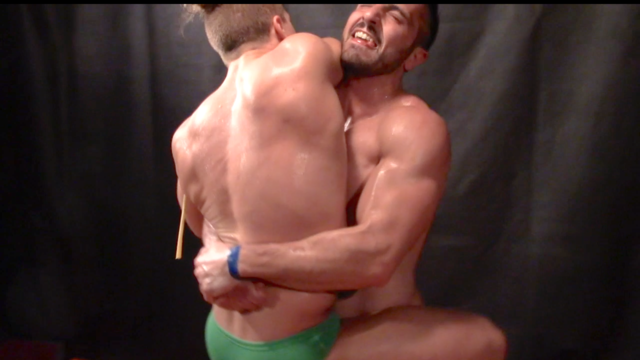 HD
33 min
We can neither deny nor confirm that MBW's new ripped Muscle Boy Luca Ferrari is Alex Costa's personal butt boy. If you need more evidence take a look at his valet skills in the Costa/Bolt match featured at the top of this catalog! Luca is a gorgeous combination of a ripped bodybuilder and those turkish oil wrestlers we all used to jack off to. Austin is also thick and muscled and this match is a great representation of Austin's skillful way of sneakily taking apart an opponent one body part at a time!